We are now open for indoor and outdoor seating plus we have Curbside and Delivery! Call us at 321-777-3735.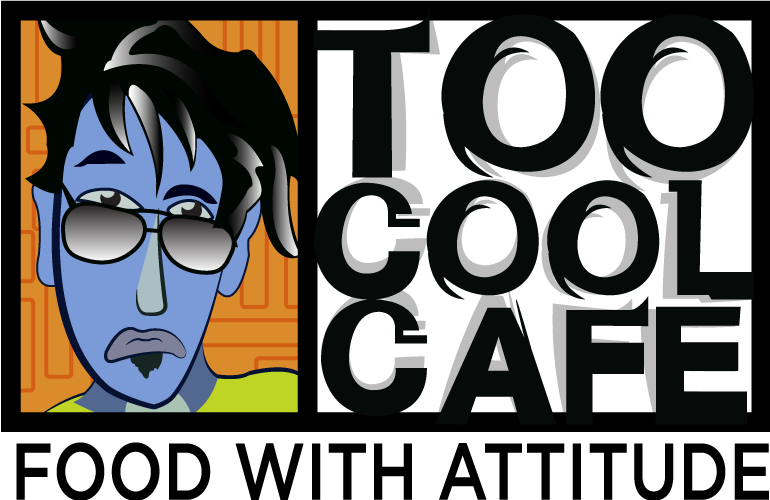 WE LIKE TO THINK OUR OFFERINGS SPEAK FOR THEMSELVES, BUT IT DOESN'T HURT THAT SO MANY OF OUR GUESTS HAVE POSITIVE THINGS TO SAY ABOUT TOO COOL CAFE. WE WOULD LOVE TO HEAR FROM YOU! PLEASE LEAVE US A REVIEW ON YELP, TRIP ADVISOR OR FACEBOOK ABOUT YOUR EXPERIENCE AT THE TOO COOL CAFÉ IN INDIAN HARBOUR BEACH, FLORIDA. JUST CLICK ON THE LINKS BELOW!
Me and my wife visited the Too Cool Cafe, was recommended by a friend we know as we are from Wisconsin visiting family in the area. As we opened the door to walk in we were greeted by "Too Cool Tina" she had two menu's ready and seated us immediately. We ordered the eggs benedict. I had the blackened chicken as meat on top of my English muffin, my wife had the crab. Both dishes were delicious! It was a perfect balance of egg, meat, and the hollandaise sauce. Most places I go to they completely smother eggs Benedict in hollandaise sauce. Not here which resulted in a delicious explosion of taste in your mouth. Also for my coffee too cool Tina actually warmed up my coffee mug before serving me my coffee. What a way cool idea! We are here for only a week but we will be back! This is a must stop whether you are visiting or a local!
-Greg V.
---
Totally not what I expected by the name of the place. Exceeded my expectations! I'm a local resident of Satellite Beach, I've noticed this little quaint place driving by, intrigued that it was still open and people were going there. Finally, my husband decided to take a chance and check it out. To be honest we were tired of going to the same beachside places for dinner. Before going, we did cheat and looked at the menu online. The delicious options we read made my mouth watering even before I took 1 bite. Tina the fabulous waitresses was so awesome. The decor even better and the food left me speechless. I'm planning on going back for breakfast soon and it will be my place to take my friends and family when they visit.
Olga M.
---
So we, us 4 girls visited this so cool cafe after a beautiful Sunrise walk on the beach and just when we thought nothing could top that this place came pretty close. We got greeted walking in... we got these "cool" hats. We had a gracious waitress Ashley and Jeff (the owner) the Best! He followed up our healthy delish breakfast with on the house bread puddings to go with hot caramel.... WHAT?!!! This is a keeper...our spot in Melbourne on the beach. Hats off to "Too cool Cafe" and Jeff
Sandra M.
---
We have eaten here several times in the past year. The sandwiches are on fresh bread with tasty fries!! The egg dishes have many combinations that keep you reading the menu t discover which might be the best. The waitstaff is very attentive and shares the specials as you sit down. The dessert cooler is hard to walk past...homemade tempting goodies line the shelves. I ordered a carrot cake last Easter that was delicious.
Donna G.
---
Excellent food and drinks. Attentive staff. The shrimp and grits dish is absolutely fantastic. My husband had stuffed, The kids had regular French toast, and they all enjoyed their meals.
Elizabeth N.
---
I dined for brunch with two friends. One of us made a dining faux pas and knocked over a full beverage. Several members of the wait staff were immediately at our service. No one seemed to be put-out by our clumsiness. They all went about cleaning up as if it was a daily occurrence. Before ordering our meal they made sure we were all comfortable. We each ordered a different meal and none of us were disappointed. I had a cup of tomato bisque. Let me tell you, it was the best I have ever had. The ambiance and decor is a trip back into an era many of us cherish. Next time you ride through IHB stop in for a delightful experience.
Sandy N.
---
Fantastic!!!! Get the gravy train omelet and sangria Mimosa!! You have to try this place!! You will not be disappointed!! I am a self-admitted food snob and it this place met and exceeded my expectation!! Service was great and everyone was very friendly!! ? can't wait to come back next time I'm in town!!
Crystal K.
---
Amazing food! We stopped by for breakfast and all had delicious omelets that were about as big as your face. Mimosas on the side made it the perfect relaxing morning. Our server was a delight, didn't rush us and always seemed to be there when we needed her. We had multiple people helping us out at our table so you can tell they work as a great team. I have to go back for dinner, they seem to have a great wine and beer selection too. All in all I was very delighted with our visit there.
Lily N.
---
Absolutely perfect selection of breakfast, lunch and dinner options... The food was amazing the staff is eclectic in nature yet very professional and friendly and the owner Jeff the owner is very personable and goes out of his way to make sure that your experience is flawless.
Gator O.
---
I stopped by here for lunch after reading some reviews on Yelp. 5 all the way. What an awesome bunch of people and the Grilled cheese with Tomato bisque was EXCELLENT! It had several cheeses including ricotta, tomato slices and bacon. So good that I couldn't NOT finish it even though it was so big. So worth the trip!!
Theresa E.
---
Great little restaurant! They have a nice selection of wines and beer and I loved the quirky/quaint building. I had the pasta primavera and it was very good with a delicious lemony sauce. My wife had a Cajun veggie burger which she also enjoyed. And then we topped it off with some "death by chocolate" topped with ice cream! Would certainly visit again next time we are out this way.
Mike S.
---
This place is adorable and food is awesome!! We went for a late brunch and the bacon was SO GOOD. Friend had a burger which was huge, and tasted amazing. It's dog friendly outside too. Service was great. Tina was supper attentive, informative, and friendly.
Mrs. C.
---
Excellent! This hidden gem had excellent breakfast food. After driving from Indiana through the night this was the perfect place to stop and eat before going to our condo for spring break. We tried a variety of breakfast items and sat outside so the kids could run around. All of the food is homemade and delicious. You will love eating here.
Selena J.
---
This place is downright AWESOME!! Trust the reviews here. First off, I've never been to a restaurant like this: the wait staff treat everyone like they've been best friends with you for years. Everything is very relaxed, everyone is extremely friendly, the atmosphere is sort of a romantic, laid-back hang out, and the food... oh, MAN... the food is absolutely to die for
I was greeted by Brandon (sp?), who is super cool and friendly right off the bat. He strikes up a conversation and makes you immediately feel welcome. I was seated within 60 seconds of walking in the front door. (Note: there is indoor and outdoor seating. Indoor has an awesome ambiance; outside has the beautiful weather. I sat inside.)
Next, "Too Cool" Tina introduced herself as my waitress. She is AWESOME!! She is extremely friendly and attentive, and will stop by and chat with you occasionally (nonintrusively, too) and make sure you are fully enjoying yourself. She will make sure you thoroughly understand the specials and is knowledgeable about the entire menu, so ask any questions you may have!
I got a cup of the tomato bisque soup to start. Let me just say, it was, by FAR, the best tomato bisque I have ever, ever had. Ever! The portion was about what you'd expect from a cup, but the soup is rich and creamy and just right.
Next, I got the recommended (by Tina) lobster roll. The chef is from Cape Cod, and knows his lobster. As a Boston native and lobster-diver myself, I know a bit about lobster as well, and I will definitely hand it to the chef. Plenty of juicy, perfectly done tail and claw meat on a lightly toasted roll (larger than a hot dog roll, smaller than a sub roll) with lettuce underneath will satisfy your taste buds and fill you up. It comes with chips, homemade slaw and pickle slices.
To finish, I was given a rundown of the desert list by Tina. Everything sounded great, but in the end I went with her recommended caramel fudge pretzel brownie, topped with vanilla ice cream. Brownie sundae fans will NOT want to miss out on this! Every single bight made me audibly enjoy myself.
Seriously guys, I'm not exaggerating here. While every place is not for everyone, I thoroughly enjoyed this restaurant, and I think you will, too! If you're lucky, you'll get star waitress Tina!
Thanks, Too Cool Cafe!!
Dave D.
---
I LOVED my eggs Benedict!
Too Cool Cafe is so cute. They have outdoor seating for doggy diners and an intimate space inside. Although the space is small, I never felt like I was intruding on other people's space. The tables are set up perfectly. This would be such a cute place for a date night. Bonus: they take reservations.
I went for Sunday brunch and had the traditional eggs Benedict but with a homemade buttermilk biscuit upgrade and of course, a side of grits. First, thank you Too Cool Cafe for not serving me instant grits. These were the stone ground grits that have real texture. I needed to salt them pretty heavily but I salt nearly everything I eat anyway. My hollandaise sauce was AMAZING! I often get eggs Benedict and am lefty satisfied because they don't properly make the hollandaise. Here, it's he perfect zing from the lemon, perfect consistency, and salted just how I like. The only way to improve them would to add a crab cake. They do have crab and asparagus but my heart's set on a crab cake.
I did eye my boyfriend's mother's meal. She got strawberry stuffed French toast and it looked mighty good. My boyfriend said he loved his omelet and really enjoyed the peppered bacon. They both loved their bloody Mary's so much they got another round. :) They also have a bottomless mimosas deal is you get the blinis. $25.
Everyone else enjoyed their Brie apple crepe (lunch appetizer). I personally am not a fan of Brie but it seemed to be a bit between three other people.
And of course, no meal, even breakfast, is complete without dessert. We got four chocolate chip cookies to go and only have 2 left after seven hours. They were very good.
I cannot wait to come back and try their lobster grilled cheese or their bacon and chicken Mac and cheese. I was very seriously considering ordering one to go!
Brooke T.